Dear Friend,
Thank you for visiting to download a free introductory portion of the all-new full-color Mittleider Gardening Course book.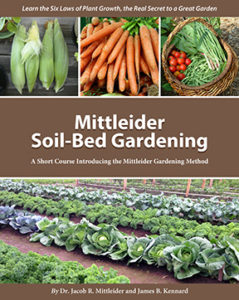 This downloadable PDF file includes:
1) the Six Laws of Plant Growth — the foundation in gardening knowledge for all gardeners, new or experienced,
and
2) Mittleider Soil-Bed Gardening — the first 7 lessons/chapters of the course book. These lessons alone will teach you how to grow an abundant, high-yield, efficient, and beautifully organized garden using almost any native soil. I personally hope that you will learn from this gift and furthermore I challenge you to implement what you learn — you won't regret it!
Should you wish to purchase the full book in print or in PDF file format, please click the link below and select your desired format.
Mittleider Gardening Course Book (full version print or PDF for purchase)
To download the PDF file and save it to your computer, please click the link below.
Mittleider Soil-Bed Gardening – 7 Lessons/Chapters PDF file (PDF, 8.3 MB) FREE
Thank you again for your interest!
Best of success to you in your gardening,
Jim Kennard
President
Food For Everyone Foundation