Jacob R. Mittleider grew up on an Idaho farm – and hated it. He vowed he wouldn't be a farmer, and so he attended an Adventist boarding school and studied to be a baker.
After graduation and marriage to Mildred they moved to Loma Linda, California and began their family. They had two daughters, and Jacob worked as a baker for several years, until a provocation by the store manager upset him and he walked out and quit.
With a family to feed and nothing but farming and baking as skills Jacob began growing flowers in his back yard. He worked long hours, studied everything he could get his hands on, learned from other growers in the area, and even put a soil lab expert on retainer, until his own wholesale bedding plant business became so big and so successful that he was shipping his plants to retail stores all over the USA.
Living on 4 hours of sleep took a toll on his health however, and by 1963 ulcers required the removal of half of his stomach. Jacob had to make major changes in order to regain his health, and so after 19 years he closed the business and determined to give his life to helping people.
For the next 38 years Jacob and his wife worked in 27 countries, conducting 75 gardening demonstration and training projects, and changing tens of thousands of lives for the better wherever they went.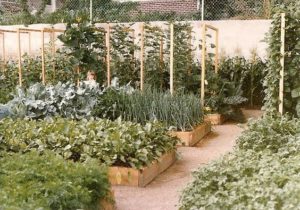 The economies of countries as diverse and far flung as Papua New Guinea, Trinidad & Tobago, and Russia were changed forever by the knowledge their growers received from this uniquely skilled and dedicated man.
Whenever he was not actually conducting an agriculture training program somewhere Jacob was diligently working on documenting everything he did by writing 10 gardening books and producing 86 slide-show lectures.
Over the years Jacob Mittleider was recognized and honored by universities on four continents, even receiving an honorary PhD from the most prestigious agricultural university in the Soviet Union.
Even during his last years Jacob continued to teach and demonstrate, and grow amazing food crops. Living in a large assisted-living facility in Redlands, California Jacob grew vegetables for the kitchen, and provided fresh vegetables for 250 residents until the day he died in May, 2006 at age 87.
Gratefully, at his request, Dr. Mittleider's materials have been digitized, and are available on the Foundation's website to people around the world.